Spartan Doors has received ISO 9001:2015 certification! The certification process took over three months and included multiple internal audits, procedural changes and two external audits. Just 4% of Australian businesses have this certification, meaning Spartan Doors joins a small number of businesses with a certified quality management system. 
ISO 9001:2015 requires strict quality procedures, a safe working environment and culture, efficient methodologies as well as effective nonconformance management. 
Why ISO 9001:2015?
To provide the highest standard to our customers, Spartan Doors targeted ISO 9001 certification. This is because of the industry we operate in, where engineering and construction projects rely on our quality. ISO 9001 is an international standard that specifies requirements for a quality management system (QMS). Organisations use the standard to demonstrate the ability to consistently provide products and services that meet customer and regulatory requirements.
At its core, the certification enables a company to continuously improve through a quality management system. Customer/employee satisfaction and nonconformance management are the highest priorities. 
What does this mean for Spartan Doors?
ISO9001: 2015 certification means the company has a proven system to manufacture high quality products and exceed customer expectations – to a world class standard. This includes all products such as blast proof doors, bullet proof doors , cyclone doors and fire doors which begins from standard doors all the way up to blast doors. We have always prioritised quality, and this certification ensures we continue to provide the best quality doors.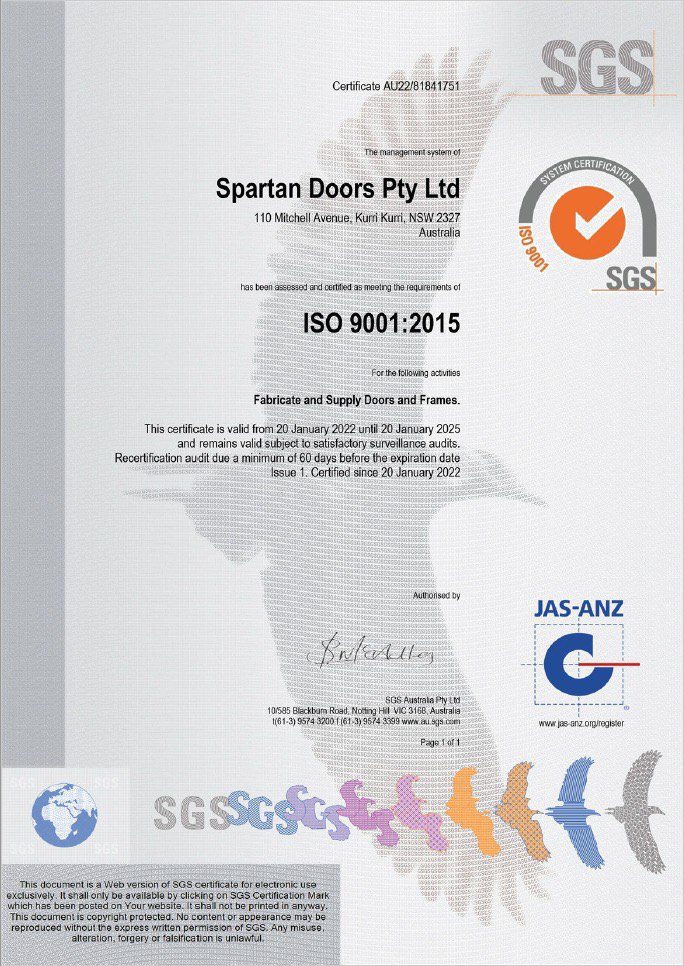 For more information on what this certification means and why it's important, please contact us via email at  [email protected] or call 1300 784 852
.