The Spartan Doors Flushdoor range is a comprehensive product offering for the internal flush panel door market.
Each product is designed to strike a balance between the six traditional pros and cons that weigh into the decision-making process when it comes to undertaking a new construction project. Like all of our products, the Flushdoor range is included in the Spartan Doors mission of having the fastest lead times in the industry – especially for custom sizes. Internal flush panel doors are used in common industries such as residential, healthcare, commercial, education, infrastructure and industrial.
A flush door is made of either a solid, semi-solid or hollow core covered with finishing sheets on both sides often with thin pieces of timber on the edges. A panel door is made of a solid timber hinge, lock, top and bottom rails. They are put together using an industrial strength wood adhesive. The solid wood boards in between the rails are slightly inserted on the solid rails. A flush panel door is made of a core (core can either be solid timber or other materials) enveloped with an outer covering of choice materials. Its rails can either be a solid timber (glued together) or metal clads (connected by rivets). This being said, a flush panel door can be customized to accommodate any type of hardware. It can also be fire rated for additional safety.
Types of Internal Flush Panel Doors
The six traditional pros and cons that factor into our customer's decision-making include
Weight – How much the product weighs, and therefore how easy it is to install.
Longevity – How long the product will last and how resilient it is to accidental damage.
Price – How cost effective the product is for tighter budgets.
Acoustics – How well the product performs acoustically.
Security – How resilient the product is to unwanted intrusion.
Insulation – How well the products perform with regard to thermal insulation.
Internal Flushdoor Options
Hollow, semi-solid or solid
Internal or external use
Oversize
Gloss paint
Pine, Redwood, MDF rails and stiles
MDF, MDF Primed, HMRXP, Plywood, Marine Ply and Timber Veneer skins
Construction Options
Pine, Redwood or MDF rails and stiles
MDF, MDF Primed, HMRXP, Plywood, Marine Ply and Timber Veneer skins
Full profiling
Bottom rebate
Perimeter rebate
Meeting stile rebate
Power pass
Tapered door
Vision panel
Air grille
Internal steel sheet
Steel subframe
Edge strips
Spartan Doors guarantee all of the Flushdoor range shall be free from material and manufacturing defects for 3 years from the date of delivery.
Spartan Doors Flushdoor Range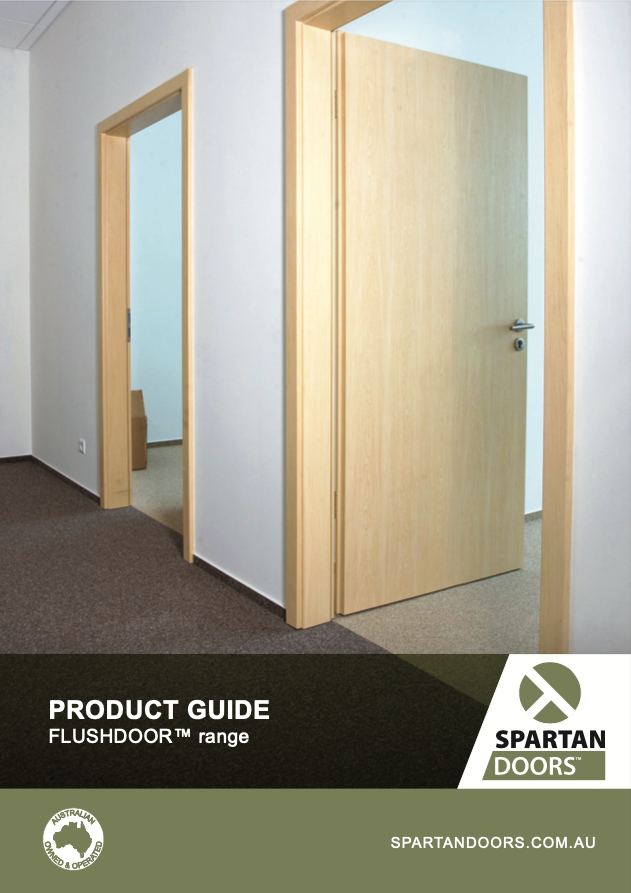 For more information about our internal flushdoors, please contact us today via email at [email protected] or call 1300 784 852