Our cyclone rated doors are made of composite door leaf to AS/NZS 1170.2, with a steel plate on both sides.

Cyclone Rated Doors Description
Our cyclone rated doors are multi-purpose doors ideal for external or internal use in industrial facilities and manufactured to withstand Category 2 and 3 cyclonic wind categories, which rank among the severest in Australia, found predominantly in regions C and D in Queensland, Western Australia and the Northern Territories. Our cyclone rated doors are engineered and manufactured to exceed the requirements of AS1170.2 and can also be used in less severe regions A and B.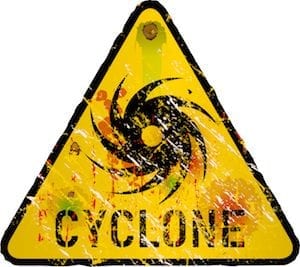 Cyclone rated doors feature a re-bar matrix that is welded to the door plates. Concrete is poured into the space between after installation. Our cyclone rated doors are capable of withstanding cyclonic winds from 125 km per hour to 224 km per hour.
A variety of finishes, such as epoxy paint systems or a primer finish, and access mechanisms provide a professional and unobtrusive look. The door maintains functionality and strength while offering the highest safety in the industry. There also the options of door seals and cyclonic wind resistant windows.
Cyclone Rated Door Applications
Refineries, munitions storage, blast containment, underground bunkers, substations, gas and LNG plants, mines, helipad buildings and railway transformer enclosures.
Cyclone Rated Door Finishes
The standard finish is Zincanneal/Galvabond. Other finishes available include primer finish or epoxy paint sets.
Cyclone Rated Door Specifications
Size: Standard – 2045mm x 870mm wide
Up to: 3500mm high x 2400mm wide transom equipment doors
Cyclone Rated Door Design:
Finish: Zincanneal/Galvabond
Core: Concrete poured after installation
Frame: Galvanized / Marine paint epoxy coating
Lock: Fitted to door sets
To Specify
Door shall be Spartan Cyclone Rated Door 40mm thick high-loading door. Sheeted steel finish in Zincanneal and with dust seal option. Other hardware can be fitted by Spartan Doors as specified and fitted to door sets.
Cyclone Rated Doors Media
If you need any reminders of the destructive potential of tropical cyclones, check out this documentary from The Australian, which shows the relative strength of each increasingly powerful category.
---
Here at Spartan Doors, we provide the highest quality cyclone rated doors in Newcastle, Sydney, Melbourne, and Brisbane, Australia. Our doors are sure to keep you and your products safe in any circumstance.