Spartan Doors manufacturers specialised industrial doors and frames for residential, commercial, and industrial applications all made at our factory in Newcastle, Australia.
Spartan's range includes a mix of standard doors and specialised doors. Standard doors range from fire and solid core doors for residential and commercial applications, to shed doors and industrial doors for industrial applications.
The more extensive specialised range begins with security doors, starting with the Bulwark 2000 ranging up to the very serious Bulwark 10K. Beyond security doors, Spartan can supply blast doors, bulletproof doors, cyclone proof doors, acoustic doors and many other types of industrial doors.
Some common applications for the specialised range would include, electricity substations, ammunition bunkers, strong rooms, LNG plants, power stations, police stations, and cinemas.

Our History
Contact us today to find out how we can help you with your next project requiring industrial doors.
Download Our Corporate Brochure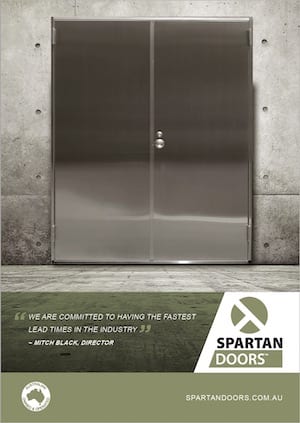 ---
Download Our Capability Statement