Our acoustic doors have been tested in a sound laboratory for acoustic ratings up to Rw39, they are also
certified as a fire rated system, meaning they perform the sound attenuating function while also limiting the travel of fire or smoke.

Acoustic Doors Description
The Spartan Acoustic Door is a multi-purpose door ideal for use in industrial and commercial applications where noise reduction between two areas is required. Unlike standard residential acoustic doors, their dual testing as a fire door makes them perfect for applications where both noise reduction and fire protection are needed. 
The door is constructed using hardwood edge strips, internal vermiculite core, with a variety of skins available depending on the application and desired paint finish. Additional acoustic materials are added internally to the door to achieve higher acoustic ratings when required. The doors can maintain both their acoustic and fire ratings, when externally clad in steel, so they are also suitable for high security applications like substations and pump rooms.
The construction of the doors and frames, allows them to be tested to AS1276.1 (acoustic) and AS1905.1 (building), and certified to AS1530.4 (fire). A large range of hardware options are available and can be fitted upon request.
Acoustic Doors Application
These doors are frequently used in cinemas, substations, theatres, pump rooms, schools, and office environments where noise control is important due to confidentiality and privacy requirements or concerns.
Acoustic Doors Finishes
These doors are available in a large range of finishes, including MDF, primed MDF, HMR XP, plywood, custom veneers, and steel cladding. In some instances, the finish limits the maximum rating of the door, so contact us for more information.
To Specify Spartan Acoustic Doors
Door system shall be Spartan Acoustic Door to AS1276.1 and AS1530.4 (only add if fire rating is required). Door shall achieve an acoustic rating of Rw## (## ranges from 31 to 39 for single doors and 31 to 33 for double doors) and shall achieve a FRL of -/###/30 (### can be 60 min or 120 min – only add if fire rating is required). Door to use a vermiculite core and hardwood edgestrips, skin to be nominated based on acoustic and fire requirements, or finishing requirements if applicable. 
Door shall be supplied with the matching door frame to ensure compliance to the above standards, door frame shall be manufactured from minimum 1.5mm pressed metal and supplied to suit the wall types on site. Door frame shall be supplied with hinge backing plates and universal strike, both with mortal guards, finish of the frame will be spot primed.
Acoustic Door Diagram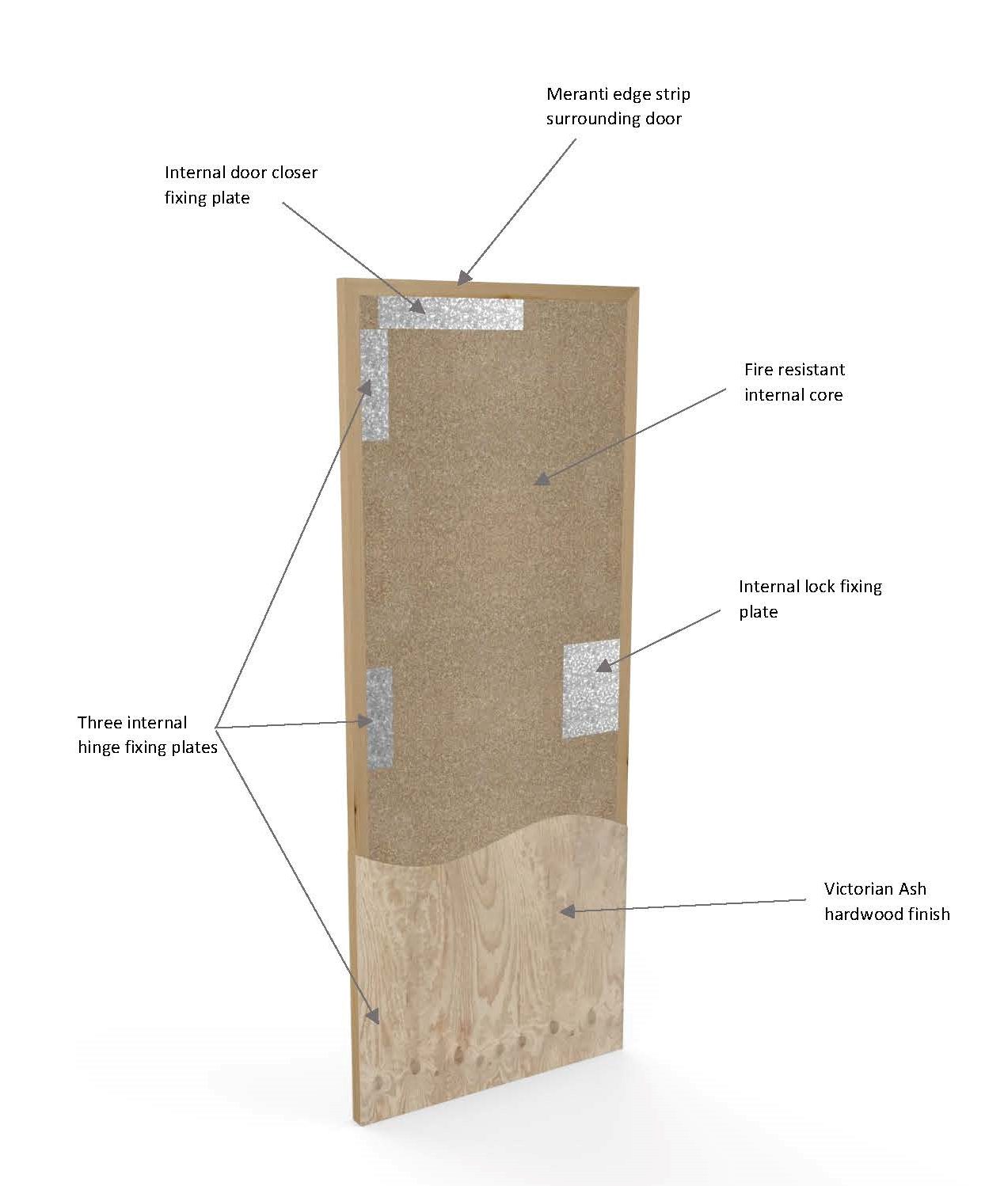 To inquire please contact us today on 1300 784 852.
---
Here at Spartan Doors, we provide the highest quality acoustic doors in Newcastle, Sydney, Melbourne, and Brisbane, Australia. Our doors are sure to keep you and your products safe in any circumstance.