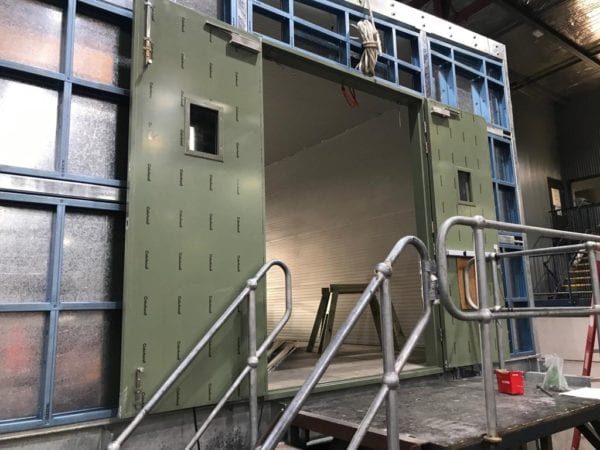 Here are some custom industrial-grade, double and single, 2-hour fire-rated switchroom door sets that are currently being installed in a new transportable substation in NSW.
These pre-hung doors are sheeted and capped in Colorbond Pale Eucalypt with commercial-grade stainless steel hinges, skeleton bolts, closers and locking hardware. Note the closers are mounted on the inside face to increase longevity and reduce the chance of external tampering or vandalisation.
Like most transportable switchroom door sets, all doors are fitted with vision panels for safety. These vision panels allow the door operator to check for obstructions, fire or other personnel before opening the doors.
The frames are fitted with a custom bottom sill with face flange, which helps keep the frame square during installation, negates the need for a threshold plate for sealing and weather resistance, and also improves the appearance of the installed system.
The door sets are supplied as pre-hung systems. In this case, the doors come hung in the powder-coated frame (to match the Colorbond doors) with all of the hardware fitted. This reduces the installation time by a number of days and means fewer specialised trades are needed on site. The wall opening size is finalised at the building design stage and it usually determined by us after we are given a clear opening size that needs to be achieved to allow machinery and personnel access.
Spartan Doors manufacture a wide variety of switchroom and substation door sets. Please don't hesitate to get in touch if you think we can assist your current or future projects.