Spartan Doors recently manufactured a specialised pre-hung steel clad door system. The doors shown below are waiting for a final quality control check in our factory before being packed and shipped to the customer. This steel clad door system uses a heavy duty steel frames and comes complete with the industrial door hardware already fitted. For these particular doors we used Colorbond for the metal cladding, but we can also clad doors in galvanised steel or stainless steel for increased strength and corrosion resistance.
Pre-hanging is a specialised service in which a door is hung on its hinges within a frame. We provide this service as well as fitting the hardware on the door. This is achieved by utilising CNC routing machines to accurately manufacture the hardware preparations. These doors are then fitted to the appropriate frames by experienced and skilled staff. Pre-hung doors have become increasingly popular across a variety of industries, especially with switch/electrical rooms because it allows the staff on-site to install doors and frames quickly and with little mess.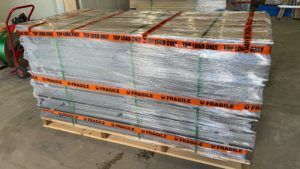 One of the key benefits of sheeting and capping a double door set in steel is that it protects the doors from water damage and potential intruders. Normally, you will find these sheeted and capped doors in electrical switchrooms, supermarkets, emergency exits, and security doors. We recently provided a sheeted and capped double door and frame for a local pump station, with excellent feedback on the quality of the products.
At Spartan Doors we manufacture top quality products and our sheeted and capped doors are designed to meet your client's needs. This is achieved by utilising skilled engineering so that you and your customer can feel confident that our door systems are the ones to suit your needs.
If you would like to learn more about our steel doors or any of our other products, please contact us via email at [email protected] or call 1300 784 852.