Our cyclone rated doors provide a professional and unobtrusive look for industrial facilities in Sydney, NSW.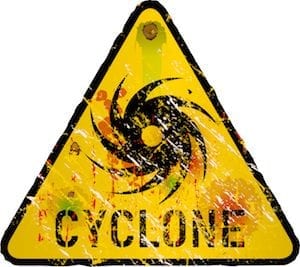 At Spartan Doors, our goal is to help you prepare your clients for situations of all kinds. One event that we never hope to go through, but that we should always be prepared for, is a cyclone. In order to achieve maximum security during this weather event, we have created multi-purpose cyclone rated doors that are ideal for external or internal use in Sydney, NSW.
Manufactured to withstand Category 2 and 3 cyclonic wind categories, ranking among the severest in Australia, our cyclone rated doors are perfect for applications in industrial facilities found predominantly in regions C and D in Queensland, Western Australia and the Northern Territories.  These doors can also be utilised effectively in less severe regions A and B. These doors are capable of withstanding cyclonic winds from 125 km per hour to 224 km per hour.
Cyclone rated doors feature a re-bar matrix that is welded to the door plates, and concrete is poured into the space after installation. Available with access mechanisms and a variety of finishes, such as epoxy paint systems or a primer finish, our cyclone rated doors provide a professional and unobtrusive look. These doors also maintain functionality and strength while offering the highest safety in the industry. We can also provide options for door seals and cyclonic wind resistant windows.
At Spartan Doors, we find our cyclone rated doors are the perfect application for refineries, munitions storage, blast containment, underground bunkers, substations, gas and LNG plants, mines, helipad buildings and railway transformer enclosures in Sydney, New South Wales. If you have clients who need cyclone rated doors at their industrial facilities, please contact us today for more information.
---
Here at Spartan Doors, we provide the highest quality cyclone rated doors in Sydney, Newcastle, Melbourne, and Brisbane, Australia. Our doors are sure to keep you and your products safe in any circumstance.