We're pleased to have recently updated the Spartan Doors Corporate Brochure to better reflect our vision, values, and history.
In it, we not only provide more details on the history of Spartan Doors, but we also highlight our commitment to working to the shortest lead times in the industry. After all, it takes about the same time to make a fire-rated door or door frame as it does to make a pizza. So why can you get a pizza delivered in under an hour, but doors and frames can take a month or more?
Please download the Spartan Doors Corporate Brochure from the link below to find out! If you have any suggestions about this brochure please do not hesitate to let us know.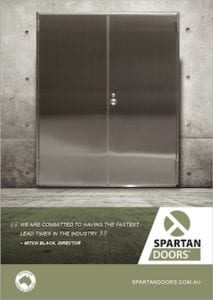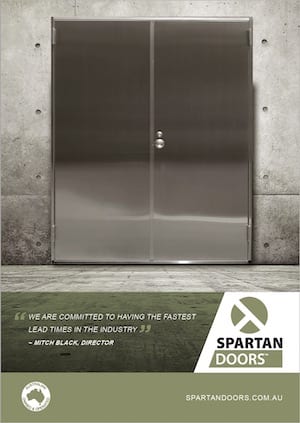 If you have any further questions about any of Spartan Doors products or services please feel free to reach out to a member of our team today. Once we receive your enquiry one of our team members will be in touch with you as soon as possible (ASAP). Our best contacts details are via email at [email protected] or call 1300 784 852. We look forward to hearing from you soon and beginning to exceed your expectations in line with our core beliefs and values.