Our strong room doors are designed for maximum safety in Melbourne.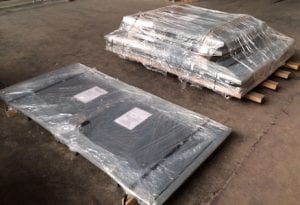 Sometimes standard security doors are not sufficient to keep people, materials and goods free and clear of danger. Even high-quality steel doors or reinforced steel doors may not be enough if you are building at a specific site or your customers have specific requirements and specifications. At Spartan Doors, we manufacture high-quality strong room doors that provide the necessary increased security of residential, commercial and industrial areas in Melbourne, Victoria.  From guarding against theft and break-ins to high-security residents and the protection of hazardous materials, our strong room doors are designed for maximum safety.
Some of the ideal security features of our strong room doors include fire proofing, reinforced hinges, pick-proof locks, and a number of other options. At Spartan Doors, our experienced professionals can discuss your needs and specifications to determine what kind of strong room doors will best meet your application requirements. Because we specialise in the skilled engineering of security doors and their features, we will work with you to customise your strong room doors so you achieve an excellent end result. Additionally, should you be interested in our highest security-rated door, we offer the Bulwark 10K, the strongest door in the Spartan Doors security door range. Typical applications may include restricted areas and facilities where security is vital.
At Spartan Doors, we are equipped to provide the security doors you need at any level, and we are available to answer your questions and discuss your needs. We also offer custom door options and industrial-grade hardware to ensure maximum security at your facility in Melbourne. Contact us today to learn more about how we can assist you.
---
Here at Spartan Doors, we provide the highest quality strong room doors to meet your commercial and industrial needs in Melbourne, Newcastle, Sydney, and Brisbane, Australia.