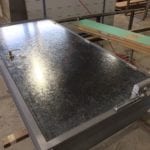 Galvanised Steel Door with 2-Hour Fire Rating
-
Here's another galvanised steel door with fire rating going out to a customer in the construction industry.  This door will not only survive well in...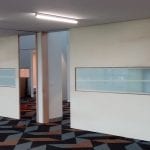 Large commercial sliding doors for a school
-
These large commercial sliding doors were supplied to a school in New South Wales.  The doors were solid core doors with significant acoustic insulation properties...
Spartan Doors designs and manufacturers specialised doors in Newcastle, Australia. Many of the doors produced by Spartan are custom designed for specific projects. Below is a list of the various door projects Spartan has been involved in, and the products that were supplied.
Hospitals : Fire Doors, Solid Core Doors, Blast Doors, Louvre Doors
Schools : Fire Doors, Solid Core Doors, Metal Security Doors, Industrial Doors
Apartment Blocks : Fire Doors, Solid Core Doors
Shopping Centres : Fire Doors, Solid Core Doors, Metal Security & Industrial Doors
Aged Care Homes : Fire Doors, Solid Core Doors
Banks : Fire Doors, Metal Security Doors
Electrical Substations : Fire Doors Solid Core Doors ,Metal Security & Personnel Access Doors, Blast Doors, Louvre Doors
Holding Cell / Rooms : Metal Security & Personnel Access Doors
Gas Plants & Refineries : Metal Security & Personnel Access Doors Blast Doors
Warehouses : Sliding Fire Doors Metal Security & Industrial Doors
Tunnel Vehicular Access : Large Fire & Blast Doors, Wicket Doors
Industrial Warehouses : Metal Industrial Doors
Control Rooms : Fire Doors & Blast Doors