Louvre doors are outdoor access doors comprised of Z-profile 1.1mm steel louvre blades with a smooth finish in an SHS steel sub frame.

Louvre Doors Description
Louvre doors are multi-purpose doors ideal for external use in facilities requiring ventilation, exhaust or return air.
Louvre doors feature a galvanized square hollow section (SHS) and midrail, each fabricated from 1.6mm Galvabond sheet steel. Everything is welded smooth and clean, and the louvre blades are secured utilising sealed rivets to prevent moisture problems. Varying finishes, including Etch Prime or a durable polyester powder coat provide a professional look while maintaining functionality, durability and security in the harshest conditions. Louvre doors from Spartan Doors can accommodate any type of hardware, which can be fitted upon request. Framing selections depend on single or double width.
Louvre Door Applications
Plant rooms, transformer sub-stations, mechanical rooms.
Louvre Door Finishes
The standard finish is Etch Prime. Can leave unfinished from the factory or request factory applied durable polyester powder coat.  Louvre doors can also be made from 304-grade stainless steel for extreme corrosion resistance or as galvanised steel louvre doors for more affordable corrosion resistance.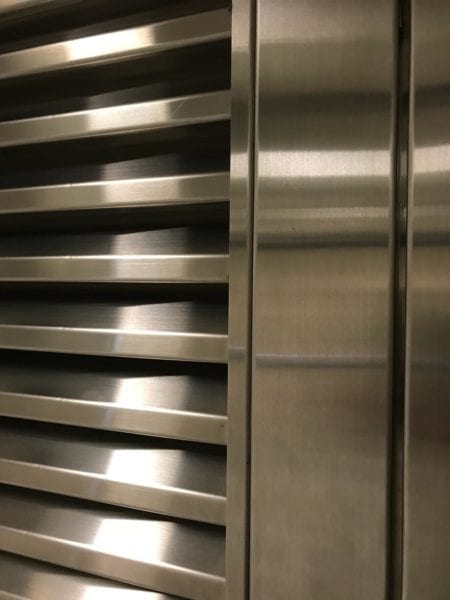 Louvre Door Specifications
Size: Standard – 2040mm x 820mm x 920mm wide by 40mm thick
Double – 2040mm x 164mm wide x 40mm thick
Special sizes up to 3500mm high x 1500mm wide x 40mm thick
Design: 1.2mm Galvabond sheet steel Z-Shaped louvre blades (Chevron shaped also available) with midrail set in 1.6mm galvanized steel
Finish: Etch Prime but can be left unprimed or select factory applied durable polyester powder coat
Frame: 38mm x 38mm x 1.6mm SHS galvanized steel
Lock: Selection fitted at the factory
Hinges: 3 100mm x 75mm x 2.5mm satin chrome plated
Weight: TBD
To Specify Spartan Louvre Doors
Door shall be Spartan Louvre Door 40mm thick with 1.6mm SHS steel subframe with midrail. Smooth and clean welding edges and hung in a Spartan galvanised steel frame. Other hardware and locking mechanisms can be fitted by Spartan Doors as specified.
To Order Louvre Doors
Refer to the Louvre Door order sheet for a full list of options and ordering information.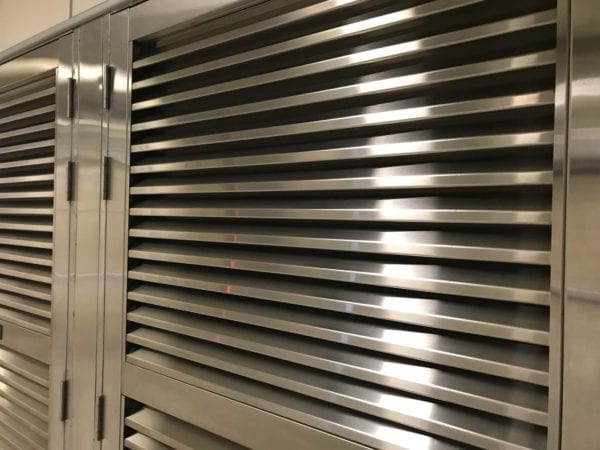 ---
Here at Spartan Doors, we provide the highest quality louvre doors to help increase security at your home, office, or warehouse in Newcastle, Sydney, Melbourne, and Brisbane, Australia.