Louvre Panel Systems:
Louvre panel doors are a highly specialised and sought after area of industry. Spartan Doors latest project lead their biggest pair yet.
This double door comes in at 2.5 meters high and 3 meters wide. The full system includes a custom door frame and powder coated finish. Designed for a control room that needed large vehicle access, it provides impressive strength and security, while maintaining a comfortable working environment.
Custom Designs:
Spartan Doors constructs louvre panel systems fully to customer specifications to meet all their operational needs. Their team includes experienced metal workers and tradesman who have the highest level of skill in folded metal designs.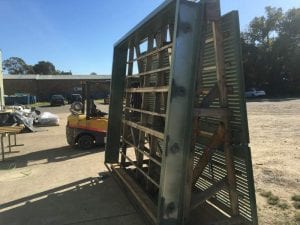 This means louvre profile, colour, size and frame type are all customisable! Don't like the colour? Specify a different one, or we can manufacture the door out of stainless steel, giving a seamless look to any business.
Contact Spartan Doors today to discuss a louvre door system for your project.