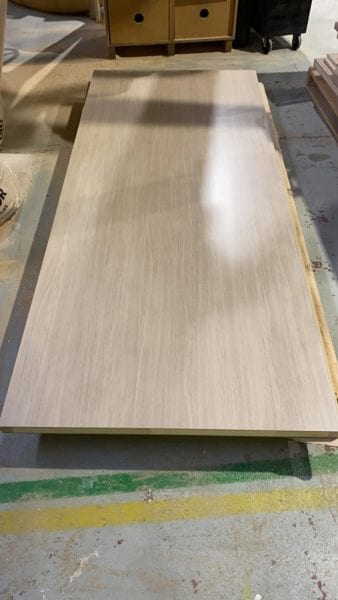 I was walking through the factory the other day and noticed this natural ash laminate door coming off one of our SCM CNC machines ready for quality control. I thought it looked fantastic and was worth sharing on our website.
This solid core door is sheeted with natural ash patterned, high-pressure plastic laminate. I couldn't believe it was actually a plastic finish given how realistic it looks. This door will really be easy to install and will last and last given the tough finish.
This sort of high-pressure laminate is available in many different wood grains as well as solid colours. There's no need for painting or any additional finishing on site. We glue the laminate to the core of the door and press it using our 150T hot press. This ensures that the door will never de-laminate and makes a perfectly smooth and flat door with little chance of warping.
This door was actually for a funeral home but we supply similar doors to hospitals, medical offices, and other commercial premises. We can also apply similar high-pressure laminates to fire-rated doors and security doors.