Spartan Doors is brewing up a storm in the world of pressed metal doors frames, ramping up production capacity to meet the increasing demand for frames on-site and on time.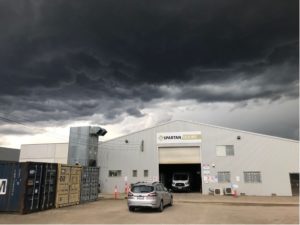 In recent months, we have seen an increase in demand and have taken actions accordingly to ensure we're meeting the requirements of our customers. As part of that process, we have increased our production capacity without compromising on quality.
Each of our pressed door frames starts out as a sheet of metal delivered to the factory. We use a vacuum crane to lift the heavy sheets, making it easier and safer for our staff while saving them time. This has made our production process safer and faster. And with increasing steel prices, it's important this is balanced out by always looking for ways to improve our production efficiency.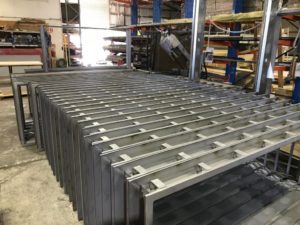 The sheets of metal find their way to our CNC plasma cutter. Which cuts out the hinge and lock preps and mitres the ends with precision before being folded into shape by our CNC press brake, which even works for our new generation frames.
Assembling the frames is where the fun begins, our highly experienced and well trained staff safely weld the frames together. You would barely recognise this frame compared to the flat sheet of metal that was delivered off the back of a truck. But nonetheless, we have three welding booths where our people work hard to ensure each frame lives up to our extremely high quality assurance standards.
Finally, the pressed metal door frames are ready to be sent out to our customers. But our job hasn't finished yet, we want to keep our costs as low as possible which is why we make sure to use cost effective packaging and freight options. Spartan Doors is widely known for our high quality and reliable service, so as demand increases we are stepping up to the plate to ensure our quality standards are never compromised.
For more information on our pressed metal door frames capabilities, contact us via email at [email protected] or call 1300 784 852.