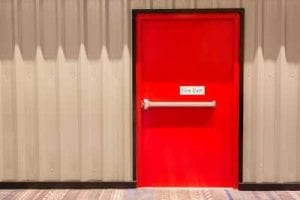 There are obvious places where you might think of placing fire doors, like stairwells in office buildings. What you may not have considered is that you could have potential customers who need fire rated doors for their dwellings and facilities that are outside the typical scope of consideration. If you provide doors and other products for your customers, it could be important to be able to discuss fire rated door for a number of reasons. Here are three types of customers who may need fire rated doors for their buildings:
Private – Did you know some homes that have loft conversions or interconnected garages must have fire rated doors? While private homes often have specific fire codes they must meet, being able to provide the doors your customer needs in this situation is important.
Commercial – There are extensive regulations surrounding commercial properties, so that they adequately meet fire codes. Fire rated doors are a part of emergency planning, and providing the necessary doors for these customers benefits both you and them. Staying current on regulations and having fire rated doors in-stock will help you assist these customers as the need arises.
HMOs – Because fire-rated doors serve as an important security measure and an access door to the outside, it's important that HMOs (Houses of Multiple Occupation) are properly equipped. Similar to commercial buildings, they will also have an emergency plan in place, but these customers may also need to be fitted for multiple fire-rated doors, depending on the size of the dwelling.
If you do not currently carry a fire-rated door or you are out of stock and would like to order more, please contact us at Spartan Doors. We manufacture high-quality products that are designed to provide long-term solutions in a variety of circumstances. We look forward to working with you.