Below is a guide on installing Spartan Doors frames into an AFS Wall system.
Installation prior to core filling the AFS Wall:
The throat of the door frame is constructed to match the thickness of the AFS wall system. If the wall on both sides of the frame is already constructed, the frame can be lowered onto the wall from above. Alternatively the frame can be installed as the wall is assembled.
The frame should extend 15mm over the wall on all sides to allow for sufficient overlap to insert the temporary fixing screws.
As an alternative, the frame can have extra folds on the throat that slide inside the AFS Wall system. This removes the need to put the temporary fixing screws through the finished face of the frame.
The wall and frame are then filled from above with the core which is allowed to set. The temporary screws can then be removed from the frame or left in place per design requirements.
By installing the door frame in this manner the frame is backfilled at the same time as the wall, giving it its fire rating. This saves time and money over backfilling the frame later, and is an easier solution.
In the below diagram the frame is shown to fix to the narrower 'male' end of the wall. This is typically unusual and the frame will normally sit over the total wall thickness. This is because the AFS wall segments are usually cut to size to suit the door opening width.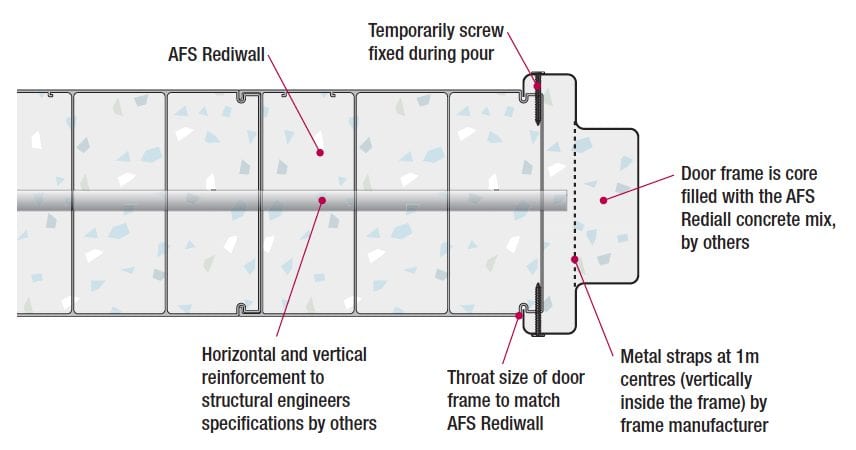 Installation after core filling the AFS Wall:
If the wall has already been filled or has an end cap in place, the frame is constructed as a retrofit frame and is bolted into place using a tubefix system. This means it is then a retrofit system and will have to be backfilled if fire rated. Note with this method the wall opening will need to be larger to achieve a given door size.
About AFS Walling Solutions:
AFS are construction industry professionals. For over two decades, AFS' LOGICWALL® and REDIWALL® have contributed to the swift construction of apartments, offices, warehouses and more.
With the smartest lightweight building material solution on the market, AFS are not content to just rely on a core product range of LOGICWALL® and REDIWALL® as part of their success.
With ongoing research, development and a keen eye on the ever-changing demands of the construction industry, AFS are always working on ways to further explore time and money-saving opportunities for contractors. Utilising cutting-edge technologies, AFS are constantly researching new opportunities for innovation for load-bearing, hand-erected walls.
For more information visit AFS Walling Solutions at AFS Formwork.
For more information on installing our doors frames in AFS LOGICWALL® and REDIWALL® then feel free to contact us.