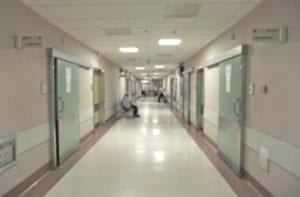 When looking into installing a sliding fire door, the main consideration is often space as this may limit your options. Sliding fire doors can be incredibly useful for your passive fire protection needs but you need to find a spot that is right for you, otherwise it just may not be possible.
When to Use a Sliding Fire Door
When traditional swing doors just aren't an option, you might look towards something else and this can include a sliding fire door. As they don't open inwards or outwards, they can be an efficient way of installing a compliant fire door which is why they are so commonly seen in hospitals. If hospitals had to deal with traditional doors, they wouldn't be able to push beds as efficiently so a sliding fire door provides a much-needed alternative.
If you feel as though you're in the same scenario, you may have to install a sliding fire door in order to meet the Australian building code and safety regulations. When it comes to these types of doors, they are commonly fitted using motion sensors but can also be installed via a system of pulleys and weights. In shopping centres and hospitals, you will normally find optical sensors as they need to open whenever movement is detected.
Furthermore, they can also be customised depending on your needs. As well as adjusting the doors themselves, the frames can be fitted to the amount of space that you have. More and more businesses are also choosing a sliding option for fire doors as they can be manufactured as fire resistant doors too. Finally, you can choose from a whole host of materials including metal glass fibre, glass, steel, timber, and aluminium.  Lead cladding is often used in hospitals to limit the spread of x-ray radiation.  These doors are known as radiation doors.
What Kind of Sliding Fire Door is Right For Me?
Sliding doors are extremely versatile in that they can cater for a number of different needs.  When you know the size of the space you have available, you should be able to choose from the designs we go through. Also, fire safety and the regulations that are in place to keep everyone inside safe will also determine what options are available to you.
Single Leaf – If you have limited entry space or tight corridors, this will be the best option for you as they are simple and efficient.
Double – If you have a little more room, a double fire door may be a luxury option for you. If you have discounted the option of a hinged door but have a little more space than the previous two require, this will allow for the right solution.
Parallel or Triple – The good thing about this type of door is that they can actually act as a makeshift wall which makes it the perfect choice if you're really tight on space.
Horizontal – Although this option is rarer than the others, it is possible to install a horizontal door if your chosen area is wide as opposed to tall. With this, you can choose to go automatic or even manual to be controlled remotely with a handheld device.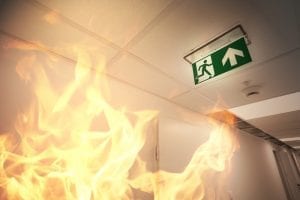 If the specialists think it is worth it, they may even combine designs in order to provide you with the best safety and security. No matter what design you choose, your door will always have electro-magnetic devices that close whenever an emergency strikes. This safety mechanism was decided by the Australian building code and prevents the spread of fire as well as smoke reaching further locations to cause potentially more damage.
With all of this information in mind, you should now have everything you need to go ahead and make a decision. If you are at all unsure, you will be able to get expert advice from a fully-licensed and qualified professional with a simple phone call or email.