Whether it be for an existing structure or a new building, there is almost no margin for error when it comes to frame manufacturing. Accurately specifying a door frame order takes a combination of measurements, variables and other options all described with their own terminology.
To make your door frame order easier, we have made a new door frame order form and we have put it on our website available for download. It can be downloaded the door frame order form directly here. Alternatively you can find it at the bottom of our commercial door frames page here.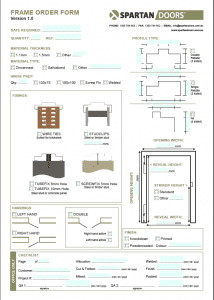 Using our form, you can specify all aspects of the door frame requirement from date and time to material thicknesses and types.
Our form also let's the user specify the fixings, profile, height, width and handings.
We use this form internally for our quality control procedures to make sure the customer receives exactly the door frame order that is required.