Spartan Doors supplied a large order of over 400 fire proof and solid core doors as well as 200 pressed metal frames for a new project in Victoria. These were delivered to the project located in Brunswick to a builder we have supplied to multiple times before. The project is for a large residential build consisting of multiple apartments, meeting rooms, amenities, and storage closets that required a range of solid core doors and fire proof doors. The structure had to survive damages that could arise from the environment (BAL) to keep its occupants safe while still looking elegant with a perfect finish.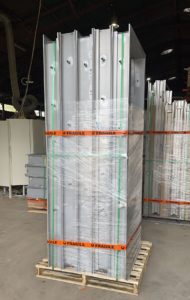 The Spartan Fire Door is a multi-purpose door ideal for internal and external use in industrial, commercial and residential applications where fire protection is required.
Our fire rated doors use hardwood timber strips to form a frame around a fire resistant vermiculite core. They are manufactured in accordance with AS1530 part 4, and are certified to AS1905 part 1 of the building code standards.
This isn't Spartan Doors first time supplying to Brunswick and with so much residential construction in this area, we don't think it will be the last time either. Spartan Doors were able to turnaround, produce, and transport the large 400 door order from our factory in Newcastle to Victoria ahead of schedule.
Spartan Doors was pleased to deliver these high quality doors and look forward to helping complete more projects in the Brunswick area in the future.
We're confident our factory has some of the shortest turnaround times in the industry. So, if your project needs quality doors and a large order of door frames on tight deadlines please get in touch. We'd be delighted to help.
Spartan Doors takes pride in delivering a quality product while giving our clients the peace of mind knowing the job will be completed on time and on budget. For more information on our fire door capabilities, please contact us via email at [email protected] or call 1300 784 852.