Spartan Doors recently completed a job involving twelve double fire doors for a school in western Sydney. The school required a fire door solution and came to Spartan Doors because of our reputation for quality and reliability. A fire door is necessary to prevent a fire from spreading throughout a building, a fire can spread from one room to another very quickly and preventing this is especially important in a school situation.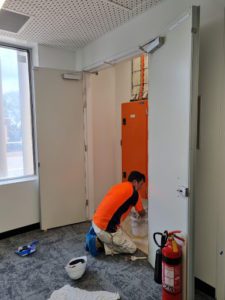 Frames had already been supplied so the client provided our in-house design team with reveal frame sizes to work out clearance sizes and a complete door solution. Each frame was unique and all of the 17 double fire doors had to be custom built for the job. The order consisted of five sets of 2-hour rated and twelve sets of 1-hour rated double fire doors that were sheeted and capped in colorbond (Surfmist). Our fire doors are manufactured to AS1530 part 4 standard and certified to AS1905 part 1.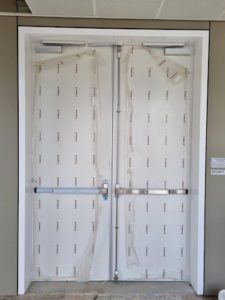 Some of the features of the fire doors included;
Fire rated exit only mortice lock

Fire rated vertical rod panic exit device

Kaba door handle 100 series plate with cylinder hole and 25 lever

EN 1-5 cam action slide rail door closer and angle bracket

305mm sequence selector

3500mm bull-nosed fire door meeting stile

Perimeter batwing door seal

Electromagnetic hold open device

EM Swivel receiver plate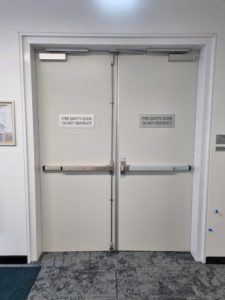 Spartan Doors takes pride in delivering a quality product while giving our clients the peace of mind knowing the job will be completed on time and on budget. For more information on our fire door capabilities, please contact us via email at [email protected] or call 1300 784 852.