A concealed closer prep is an example of off-site profiling and is a significant way of improving processes and efficiency in the construction industry. It is rapidly becoming widely used in the construction industry by companies who value time yet still want to maintain a high-quality door design.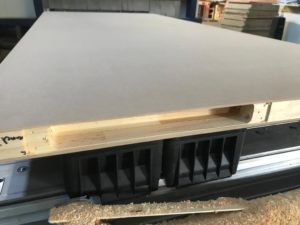 What is special about a concealed closer door design? 
A concealed closer uses cam and roller technologies to enable the installation of fire doors and frames discreetly. This makes it a perfect choice for various settings such as hotels, apartments, schools, offices and detention centres just to mention a few. 

Several businesses in the construction industry would benefit from using concealed closer preps because it reduces on-site building time, resulting in fewer site disturbances and risks as the construction process will be simplified. Speed of delivery is paramount in the construction industry and off-site profiling plays a fundamental role in achieving this.
Furthermore, it will substantially reduce the overall construction cost as builders will have fewer site-related expenses such as living expenses for workers, especially in remote areas. Moreover, it is an environmentally friendly approach that reduces on-site waste, promoting cleaner working spaces. This is important to businesses due to the growing level of environmental awareness by companies who are now more inclined to engage with environmentally sustainable suppliers. 
Conclusively, with all these benefits, more businesses should uptake this innovative construction method as it offers better economic outcomes through decreased upfront capital and shorter construction time without compromising quality, and reducing on-site activity. Additionally because the construction industry is dynamic and highly competitive it would be an exciting way for businesses to differentiate themselves from their competitors. 
For more information on concealed closer preps in fire doors and frames, please contact us via email at [email protected] or call 1300 784 852
.