Spartan Doors recently delivered dozens of custom size doors to a large residential project in New South Wales. The Collaroy Plateau job required custom hollow core doors with 40mm rails and stiles and one even included a rebated meeting stile. The doors were over 2.5m long and had either a 4.75mm MDF or 4.75mm HMRXP finish. Please see the Timber Finishes Guide here for our selection of door finishes.
Custom Size Doors
Spartan Doors normally supply high quantity hollow core projects but on this occasion, we were asked to manufacture custom doors for a significant residential job. The project was uneventful in the best way, being manufactured and delivered on time to the happy customer.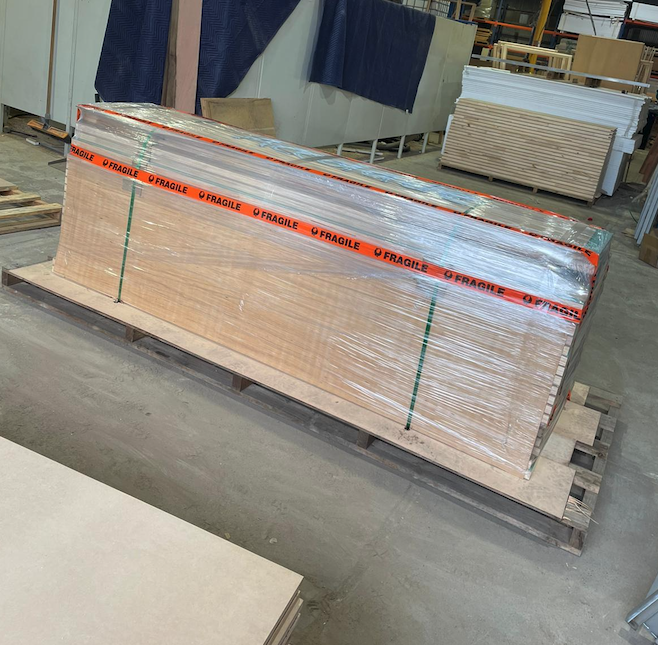 Our Flushcell product was used because it is the most appropriate for the hollow core door requirement. This is because it has soundproof qualities, heat insulation and is also lightweight and inexpensive. The Flushcell is primarily used as an interior door but can be altered to become exterior by adding solid members to strengthen the door to external factors. The Flushcell door is designed for aesthetic interior environments where security and weathering are non-factors.
Flushcell Advantages
Weight – The door weighs significantly less than other door options. This weight makes the door easier to manufacture, transport, install or relocate.
Price – The Flushcell door is the most affordable option compared to other solid core or fire-rated door alternatives.
Residential Applications – This interior door is the most commonly used around the world because the cost and weight are ideal for residential and commercial environments. Its popularity also means that all builders and designers have experience with the door and can manage its installation or relocation.
Contact Us!
Spartan Doors hold an ISO 9001:2015 certification as a top manufacturer of specialised doors and frames for residential, commercial, and industrial applications. For more information on custom size doors please contact us via email at [email protected] or call 1300 784 852.