Our steel door frames are engineered to last in a variety of applications in Melbourne.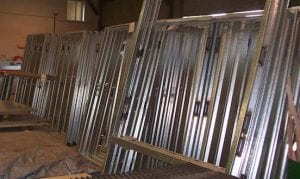 At Spartan Doors, we believe top security and safety shouldn't be left to only the door when it comes to industrial and commercial building projects. Great security features should also be included in the proper use of door frames to provide full support. One solution we provide for clients looking for great security options is our steel door frames for maximum security and support.
Our steel door frames are manufactured to provide the maximum advantage with high industrial capacity and engineered to last in a variety of applications in Melbourne, Victoria. Our high-quality door frames offer a range of benefits, including an excellent fire rating, offering full fire protection when combined with our fire rated doors.
We have supplied steel door frames for a variety of projects, and our skilled manufacturing makes them a great addition for nuclear installation, power substations, tunnels and other industrial applications. Additionally, our steel door frames provide extra support and strength while maintaining ease of installation (allowing for proper safety precautions) and offering reinforcement for security doors in any industrial or commercial facility. Providing guaranteed protections, our steel door frames are resistant to warping, shrinking, sagging, and rotting and are reliable for many security applications. Durable and functional, our steel door frames come in a variety of colours, styles and finishes.
At Spartan Doors, we also offer customisable options, quick turnaround times, and can manufacture steel door frames for resale and distribution, depending upon your needs. Contact us today to learn more about our steel door frames and to place your order.
---
Here at Spartan Doors, we offer double rebate steel door frames to help increase security at your home, office, or warehouse in Melbourne, Newcastle, Sydney, or Brisbane, Australia.