Peepholes, also known as door viewer, are designed as a safety measure so that those who are inside an enclosed room can see outside without having to open a door. It is usually fitted with a fisheye lens for a wider view of the outside. Now many people would want to know, (I being one of them), can you install peepholes to fire doors? Let's read on to find out.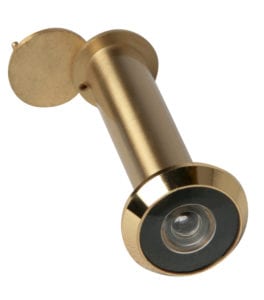 Since fire doors are an integral part of a passive fire protection system, they should be able to stop passage of fire and hazardous smoke in the event of a fire breakout. That being said, will a fire door still be able to effectively serves its purpose when a peephole is installed?
The answer is yes. There are now peepholes that are designed to keep a fire door still a fire door. Meaning this new gen of peepholes are made of durable high fire-resistant materials and can be installed in a way that will keep a fire door sealed from smoke passing through. The glass material used won't break on really high temperature. They even come with a selection on how wide the outside view can be, up to a maximum of 200° angle. Another option is a high tech "peephole" with digital display. Just keep in mind that you would want to get a peephole that is also fire rated. There are already a lot of fire rated door hardware that is available, peepholes being one of them.
If you need a fire door with a fire rated peephole already fitted or maybe one that is pre-drilled, ready for a peephole installation, contact Spartan Doors. Let us know your all your fire door requirements and we can customize to any size, thickness, finish and hardware to fit your need. Take advantage of our friendly customer service available to chat with you to address your inquiries with professional advice and recommendations.